Hurricane Charters specializes in kids fishing trips!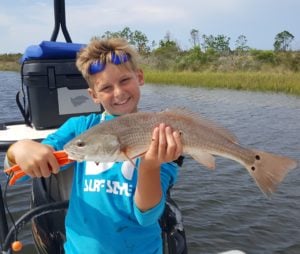 Kids trips are my favorite as children find joy in the simple things in life. I also believe it's very important to foster a love of fishing at an early age as kids are the future of the sport. Kids trips are very laid back (stress free!) outings designed to expose children to saltwater fishing, marine life and the outdoors. The primary objective on these trips is FUN!
Minimum age is 8 years old.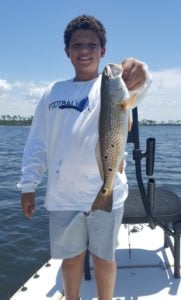 Kids trips are shorter in duration to account for shorter attention span and endurance and to beat the heat. Total trip time is 2.5 hours with approximately 2 hours of actual fishing time. We launch from a private facility on the Grand Lagoon in Panama City Beach. We generally fish the relatively calm waters of St. Andrews Bay located a short boat ride away.  As far as fishing goes, we will primarily troll with small spoons – targeting Spanish Mackerel, Bluefish, Ladyfish, Blue Runners, etc. These species are very abundant and provide steady action for the kids. Trolling helps the kids be successful – particularly the younger ones and the inexperienced/first timers. With more experienced young anglers on board, we may fish live bait for Redfish, Speckled Trout and other critters as conditions permit.  Moms and/or dads can get in on the action and some families get quite competitive.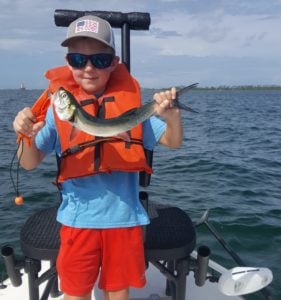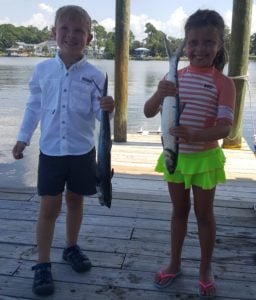 These trips are also designed to teach kids about the marine environment and hopefully develop a lifelong appreciation of the outdoors and fishing. I frequently have the kids pull my bait traps at the dock and check out what we have caught the previous night. I do my best to explain why we are fishing certain lures and why we are fishing certain areas. We are likely to encounter dolphins, stingrays, sea turtles, all sorts of jellyfish, Ospreys hunting fish, and who knows what else.  I take the time for everyone to enjoy these experiences as they can be among the most memorable.